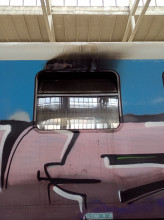 Fire in PT No 50215 in Pernik marshalling yard on 04.09.2021
Train No 50215 departed from Sofia station at 22:30 p.m. with route Sofia - Vladaya -Pernik marshalling yard - Pernik. The train was towed by electric locomotive No 91520044098-9 with locomotive crew - locomotive driver first person and locomotive driver second person and transport crew head of train and conductor. The train was operated by railway undertaking for passenger transport, BDZ-Passenger Services Ltd.
The train arrived in Pernik marshalling yard at 23:18 p.m. on the fourth main track and after a stay of one minute it departed at 23:19 p.m. When the train departed, unknown person (passenger) activated the emergency brake, and the train stopped. The traffic manager on-duty on the platform noticed smoke from the last coach No 51522563019-0, the fifth of the train composition. He took a fire extinguisher from the station and headed to the coach. When he opened, the coach door he noticed that thick black smoke was going out and found that the coach was burning and did not enter. The train staff have notified the single emergency telephone 112 of a fire on the passenger train. The voltage's was switched off at 23:23 p.m. The passengers were evacuated from the train at a safe distance and the coach was detached from the train composition.
At 23:40 p.m., arrived specialised vehicle of FSaCP-Pernik, the fire in the coach was extinguished at 00:20 a.m.
The voltage in the station was switched on at 00:48 a.m. Test D was carried out on PT No 50215 and then it departed at 00:48 a.m. to Pernik station, final destination station of the train.
There was no injured personnel. Damage was caused to the fifth burnt coach.
The train movement through Pernik marshalling yard was not interrupted.