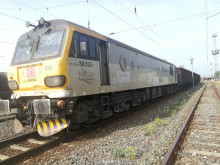 On 14.05.2020 at 18:12 hrs freight train № 80561 of "DB Cargo Bulgaria" EOOD has departed from Zlatitsa station to Burgas station. The train has consisted of 25 wagons filled with pyrite concentrate, 100 axles, 2150 tons. It has been served by an electric locomotive № 88030. The train has arrived at Todor Kableshkov station at 00:05 hrs.
The locomotive crews have shifted at Todor Kableshkov station and the train leaves on 15.05.2020 at 00:20 hrs. Approaching Nova Zagora station, the train travels at a speed of 65 km/h where the maximal permissible is 75 km/h. The train passes through the first entrance switches.  At switch № 20 the train passes with its locomotive and the first 5 wagons, but under the 6th wagon, between the two bogies, the switch reverses and the second bogie of the wagon deviates for the 2nd track. After the sixth wagon, 9 more are dragged and derail and 3 of them turn over. The train composition is torn at three places - between the 4th and 5th, between the 5th and 6th, and between the 6th and 7th wagons. The locomotive with the 5 wagons stops on the 4th track, in front of the station at 03:20 hrs.
As a result of the accident, 10 wagons have derailed, as 3 of them have turned with the cargo spilled, and the other 6 have derailed completely.
There are no injured staff and persons.
Enormous material damage is inflicted on the rolling stock and the railway infrastructure of the 3 railway switches, the output signal of the 4th track for the signalization is damaged and about 300 m of the railway, which has been upgraded in 2016 from S- 49 type rails to U 60 type rails.
The traffic through Nova Zagora station is stopped from 03:20 hrs to 08:10 hrs on 15.05.2020.
The movement of trains through Nova Zagora station is been restored along the 5th and 6th tracks.