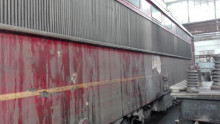 At approx. 12:16 PM local time on 16.06.2016, while controlling the transit pass of fast train No 3622 through Dunavtsi station in Burgas – Sofia direction, the Traffic Manager on duty observed a smoke coming out from beneath the locomotive. The information was communicated to his colleague in Sahrane station and to the train dispatcher.
The train was stopped in the Sahrane station, and after separating the locomotive from the passenger cars, the crew started fighting the raising fire with the fire extinguishing installation and the portable equipment available.
At approx. 02:14 PM local time the fire was extinguished by the fire brigade called from the town of Kazanluk. No passengers or railway staff were injured. Damages were caused to the electrical locomotive only.