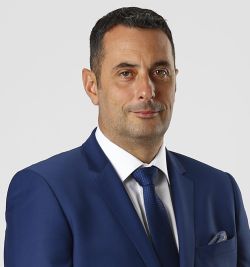 Georgi Gvozdeykov
MINISTER OF TRANSPORT AND COMMUNICATIONS OF THE REPUBLIC OF BULGARIA
Georgi Gvozdeikov is an aviation engineer, entrepreneur and a member of the 47-th National Assembly. He was a Deputy Chairman of the Parliamentary Committee on Transport and Communications.
He obtained a master's degree in aeronautical engineering and technology. He was awarded a PhD degree from the "Georgi Benkovski" Air Force Academy in Dolna Mitropolia.
From August 2022 to February 2023, he was the manager of "Bulgaria Heli Med Service" EAD, a single joint-stock company established by the state to provide emergency air medical transport services.
From 2018 to 2021, Eng. Georgi Gvozdeikov worked at the DG "Civil Aviation Administration" in the Ministry of Transport and Communications. He was Secretary General of the Bulgarian Automobile Sports Federation from 2013 to 2014. He created an innovative business project for aircraft design and construction.
From 2014 to 2018, he initiated and managed an innovative project related to auto sports, preparation and training of young rally drivers. He started the design and production planning  of rally cars and implemented a one-make motorsport championship. The project attracted numerous strategic international partners and gained serious popularity in Europe, involving participants from Sweden, Denmark, Poland, Italy, Georgia and Turkey.
From 2008 to 2013, he created and managed his own business for design and construction of ethnographic houses built by entirely ecological methods and wooden structures for rural tourism. The project attained European grant funding.
From 1998 to 2011, he was a professional motor racing driver. A Champion of Bulgaria for 2003 and the Adriatic Cup winner. He has numerous podiums and podium finishes in rally and alpine championships. One of the initiators and organizers of the Tvarditsa Rally, which has been held for 17 years. He participated in the creation of the Motorsport Academy - a training academy for safe and extreme driving.
He was awarded the Badge of Honour by the Tvarditsa municipality for active public engagement and a huge contribution to the promotion of the city and the region.