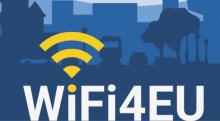 Of the 45 Bulgarian municipalities that applied for the third WiFi4EU competition, 41 municipalities received 615,000 euros in funding. This was made clear by the results announced today by the European Commission.
In terms of the number of received vouchers in this competition, Bulgaria ranks 16th, but the won vouchers in the three competitions - 227, place our country in the first place by the share of the municipalities covered by the initiative. 246 municipalities are registered on the initiative portal, and a total of 86% of the municipalities in the country have won vouchers for building high-speed wireless Internet in public places.
In this competition, 8 318 applications have been submitted and the budget of EUR 26.7 million will be allocated for funding to 1750 municipalities from across the European Union, Norway and Iceland.
The WiFi4EU initiative promotes free access to wireless internet for citizens in public places, including in parks, squares, public buildings, libraries, health centers and museums in municipalities across Europe. 38 municipalities remain outside the initiative, 19 of which have not yet expressed interest and are not registered on the portal. If desired, all municipalities that have not received a voucher so far will be able to participate in the competitions in 2020.
The analysis of the participation of the Bulgarian municipalities in the three competitions conducted shows that the South Central region has the highest percentage of financed municipalities from the three competitions, 92% or 54 of 59 municipalities have received free internet vouchers of 15 thousand Euro. Second place is in the Southwestern region with 88% or 46 out of 52 municipalities funded. The third place is held by two districts - Northeast and North Central with 86% of municipalities that have succeeded in joining the initiative. In the North-East region, 30 out of 35 municipalities are funded, and in North-Central 31 out of 36 municipalities have received a voucher. Northwestern ranks fourth with 80% of the municipalities participating in the initiative or 40 out of 50 municipalities. Fifth place was assigned to the South-East region with 79% of municipalities able to join the initiative (26 out of 33 municipalities).