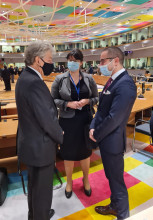 We must work to ensure universal access to the Internet, respect for fundamental human rights and child online protection. This was stated by Deputy Minister of Transport, Information Technology and Communications Alexander Poulev during his participation in the Council of Ministers, "Telecommunications" format. The forum took place today in Brussels.
The Deputy Minister expressed Bulgaria's support for concentrating efforts on remote and sparsely populated areas. According to him, digital inclusion in the EU will not be possible without digital skills development in these areas. "It is important to promote the trust and confidence of our citizens in digital technologies and services, and in particular that they are created to help people, not against people," added Alexander Poulev.
Accelerating the digital identity of citizens and promoting the use of secure financial services are necessary for a successful digital transformation, he added. The European Declaration on Digital Rights and Principles is a good basis for upholding European values at world level.
The Bulgarian delegation to the Council supported the progress in the discussions on the Regulation establishing harmonized rules on artificial intelligence, the Roaming Regulation, the Regulation on European Digital Identity (EUeID), the Regulation on Electronic Integrity. Bulgaria also supported the common approach on the Directive on measures for a high general level of cybersecurity.