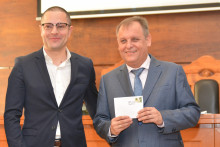 The Deputy Minister of Transport, Information Technology and Communications Alexander Pulev and the Chairman of the Supreme Administrative Court Georgi Cholakov launched a postage stamp dedicated to the 25th anniversary of the restoration of the judicial institution.
There are several stamps dedicated to judicial institutions in Bulgarian stamp issuance, but this is the first for the Supreme Administrative Court, Deputy Minister Pulev said during the ceremony. He added that the publication will be popular not only among the professional judicial community, but also among citizens, because the Supreme Administrative Court hears complaints and cases related to almost all spheres of public life.
The artist of the projects is Prof. Kristina Borisova. She depicted the symbols of statehood and law, which are woven into the special logo for the jubilee of the court.
The event was attended by the Executive Director of Bulgarian Posts Deyan Daneshki, the President of the Union of Philatelists in Bulgaria Spas Panchev and magistrates.