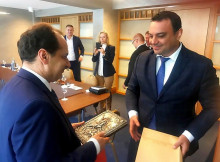 Bulgaria and Greece have agreed to extend the multimodal transport corridor between the two countries connecting the ports of Varna, Bourgas, Kavala and Alexandroupolis during a meeting between the Minister of Transport, Information Technology and Communications Ivaylo Moskovski and the Greek Minister of Infrastructure and Transport Christos Spirtzis.
Гръцката страна прие предложението на България към съвместния проект да бъде включена и връзка с пристанището в гр. Русе. По този начин ще се постигне пълна мултимодалност на коридора между пътен, железопътен, морски и речен транспорт, както и пряк път до държавите по поречието на р. Дунав.
The Greek side accepted Bulgaria's proposal to include to the joint project a connection with the port of Rousse too. Thus, complete multimodality of the corridor between road, rail, sea and river transport will be achieved, as well as a shortcut to the countries along the Danube River.
During the meeting Minister Spirtzis proposed the inclusion of the rail link with the port of Thessaloniki within the corridor in order to reach larger commercial markets. Both Ministers agreed that it is a project with high added value and there are expectations to attract large investors from the Middle and the Far East, China, Russia and other large markets.
Ministers discussed on the establishment of a joint project company by which both countries could apply for funding to build  and operate together the entire corridor. The two countries will ask for a joint meeting with EU Transport Commissioner Violeta Bulc to specify the model for setting up the company.
Among the topics discussed was also the alignment of standards for port, rail and multimodal services between the two neighboring countries, as the idea is all documents to be handled at one desk for the entire corridor. This will reduce the administrative burden and will significantly facilitate business.
Minister Ivaylo Moskovski pointed out that during the last programming period Bulgaria has largely modernized the railway and road routes within the country to the border with Greece and the connections with the ports of Burgas and Varna. He said that opportunities are currently being sought for the construction of the Varna-Rousse connection.
In view of the common position on the project, the two countries will shortly sign a Memorandum of Understanding on the construction of the Rousse - Varna - Bourgas - Alexandroupolis - Kavala - Thessaloniki corridor. Minister Moskovski invited his Greek counterpart to sign the MoU in Bulgaria following the finalization of the texts of the document.
Minister Spirtzis pointed out that Greece will fully support Bulgaria during the Presidency of the EU Council in 2018 and hopes that topics of mutual interest to all countries in the region will be discussed.