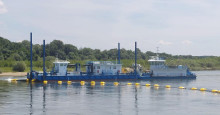 Bulgaria and Romania will work together to ensure the necessary navigability of the Danube River, it became clear during the meeting today in Ruse. The host of the meeting, on the initiative of the European Commission and the Danube Commission, was the Deputy Minister of Transport and Communications Vladimir Varbanov. It was attended by the Director for Waterborne Transport in Directorate General for Mobility and Transport at the European Commission Magda Kopczynska, Alain Baron from the Directorate General for Mobility and Transport, the Director General of the Danube Commission Manfred Seitz, the State Secretary at the Ministry of Transport and Infrastructure of Romania Bogdan Mindrescu and others.
During the discussion, it was noted that Bulgaria strictly fulfills its obligations regarding the maintenance of the fairway along the Danube River in the common Bulgarian-Romanian section, as well as that with European funds provided by Operational Programs and the Connecting Europe Facility, new vessels, dredging machinery and equipment have been delivered.
Deputy Minister Varbanov clarified that the Executive Agency for Exploration and Maintenance of the Danube River has already started dredging activities to improve the fairway in the area of Belene Island. The Ministry of Transport and Communications has announced a public tender for the selection of an external contractor for dredging, and after its completion, an opportunity will be made available for an even more optimal response in the maintenance of the fairway.
The two sides agreed to hold a meeting of the Joint Bulgarian-Romanian Commission by the end of this week, at which new goals for the unused potential of the Danube River and unification of efforts will be set. In the context of the current global situation, the Danube River and its economic opportunities are a gateway to the development of Corridors along the North-South and East-West axis, Vladimir Varbanov pointed out.
After the completion of the Fast Danube project, the conditions for navigation on the river will be improved. Deputy Minister Varbanov indicated that work on the project was still underway and expressed confidence in its completion on time.
An agreement was reached that the Bulgarian-Romanian Working Group for the preparation of the construction of 5 new bridges over the Danube River would start functioning.
Deputy Minister Varbanov emphasized Bulgaria's full readiness to take action and start the feasibility studies. The Romanian side expressed commitment to active dialogue and actions on the subject.
EC representatives expressed support and emphasized the importance of building the new facilities in view of the need for uninterrupted transport connectivity in the North-South direction. Normal 0 21 false false false BG KO X-NONE /* Style Definitions */ table.MsoNormalTable {mso-style-name:"Table Normal"; mso-tstyle-rowband-size:0; mso-tstyle-colband-size:0; mso-style-noshow:yes; mso-style-priority:99; mso-style-parent:""; mso-padding-alt:0cm 5.4pt 0cm 5.4pt; mso-para-margin-top:0cm; mso-para-margin-right:0cm; mso-para-margin-bottom:8.0pt; mso-para-margin-left:0cm; line-height:107%; mso-pagination:widow-orphan; font-size:11.0pt; font-family:"Calibri",sans-serif; mso-ascii-font-family:Calibri; mso-ascii-theme-font:minor-latin; mso-hansi-font-family:Calibri; mso-hansi-theme-font:minor-latin; mso-fareast-language:EN-US;}