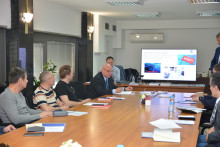 The Civil Aviation Administration hosts a seminar on cybersecurity. The event is organized in the period 5-7 April 2022 together with EUROCONTROL under Support to States (STS) Policy.
The Cybersecurity Policy in the conditions of digital transformation is a top priority for Bulgaria, and at the same time it is of key importance for a connected and secure Europe. This was said during the opening of the forum by the Civil Aviation Administration Director Hristo Shterionov. The implementation of the updated cybersecurity strategy ensures that our country is a reliable partner in European aviation, he added.
Lecturers at the Cybersecurity Seminar are leading specialists from EUROCONTROL with extensive practical, scientific and legislative experience. They are involved in the development of European Policies and the overall technical system for cybersecurity in the field of aviation and air traffic management.
The Seminar is attended by 25 representatives of organizations related to air traffic management, action in the event of information security incidents, airlines and others.
Examples and real situations will be considered, and possible challenges to cybersecurity will be outlined. The experience of EUROCONTROL and the lecturers out of their joint work with NATO and the Specialized Agency of the United Nations for Civil Aviation – ICAO will be presented.