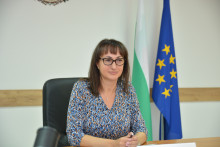 Deputy Minister of Transport, Information Technology and Communications Christina Velinova headed the Bulgarian delegation to a High-Level Conference organized by the International Civil Aviation Organization (ICAO). The forum dedicated to the recovery of the aviation sector came to an end today with the adoption of the Ministerial Declaration.
The document sets out measures on a recommendatory basis to facilitate air communications in support of the recovery of international aviation. The aim of the Conference was to demonstrate the desire of the countries to apply a common approach and harmonized requirements to facilitate international air travel in compliance with the requirements of the World Health Organization (WHO).
The forum was attended by Ministers and Deputy Ministers from the ICAO Member States responsible for air transport.