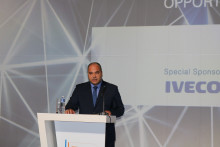 Modern infrastructure is essential for providing logistics services, so both the government and businesses are working to develop an integrated, modern and sustainable transport system. This was stated by Deputy Minister of Transport, Information Technologies and Communications Dimitar Genovsky before the participants in the Sixth Logistics Business Conference. "A good indicator of the success of our efforts is the growth in shipments of goods and people in recent years. In 2017, 136.7 million tonnes of freight and 748.5 million passengers were transported, "he added. In his words, one of the reasons for the increased volume in this sector is the expansion and improvement of transport connectivity.
Deputy Minister Genovski stressed that the efforts are aimed at parallel development both of transport projects under the priority directions of the Trans-European Corridors and of the necessary intermodal terminals. He recalled that 120 projects totaling nearly € 2 billion were implemented within the 2007-2013 programming period. "310 km of new roads were built, 345 km of railway lines and 19 km of roads were rehabilitated, 21 km of which were built. metro lines and 20 new metro stations. One of the successful projects, which contributes to the development of logistics, is the construction of a Plovdiv intermodal terminal, "the Deputy Minister said.
Dimitar Genovski pointed out that in the current programming period 2014-2020 the construction and modernization of sites from the road and railway infrastructure of the country, as well as the implementation of modern information systems in the field of transport continue. In his words, in the longer term, the Corridors of the Trans-European Transport Network (Orient / Eastern-Mediterranean and Rhineland-Danube) and the relations with the Western Balkan countries will be developed as a priority.
In his address to the forum, Deputy Minister Genovski said high-speed fifth-generation digital networks are another important technology for the digital transformation of the economy, and in particular logistics. He cites data from surveys that show that companies using state-of-the-art technology solutions are 26 percent more profitable, and their mark-up - 12 percent higher than their industry average.