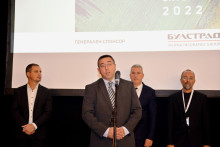 The Ministry of Transport and Communications is working on the introduction of maximally simplified administrative procedures to ensure the safety and security of citizens when using drones. This was stated by the Deputy Minister of Transport and Communications Nikolay Naydenov during the opening of the INTER DRONE EXPO in Sofia.
Deputy Minister Nikolay Naydenov pointed out that there would be an opportunity for equal access to the market of economic operators for the provision of U-Space services, as well as for the determination of the exact geographical zones. They will comply with safety and security rules, requiring prior permission to operate or bans on the use of drones.
"It is important that together with experts from the sector we determine the right mechanisms of operation and control, as well as the adequate geographical areas for safety and security, using the best global practices. This is how we will guarantee economic development, privacy and environmental protection. These issues are to be discussed in the Ministry of Transport and Communications by the permanent working group on a coordination mechanism for U-Space", Nikolay Naydenov pointed out.