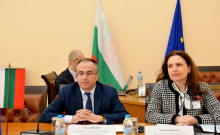 The Deputy Minister of Transport, Information Technology and Communications Velik Zantchev opened the first national workshop under the Facility for Blue Growth in the Black Sea. Representatives of the European commission, maritime sector, NGOs and the project team participated in the event.
"Sustainable development of blue economy requires achieving effective coordination between different sectoral policies concerning maritime matters. The Black Sea is a key transport corridor between Europe and Asia, a tourist destination and a developing market of blue growth", noted the Deputy Minister.
He expressed his confidence that the project will provide additional opportunity for the development of blue economy in the region. "I believe that within the framework of the initiative we will outline the priorities on national and regional level as well as develop maritime research and innovation program", added the Deputy Minister.
The EU annual meeting on maritime matters and blue growth – European Maritime Day, will be organized within the framework of the Bulgarian Presidency. The event will take place May 31 to June 1, 2018 in Burgas and it is expected to support the Declaration of the Ministers in the Black Sea region on the implementation of common policies in the field. 
The Facility for blue Growth in the Black Sea project was launched in October 2017 for the period of two years, which will be extended with another two. Its main objective is to aid stakeholders in the deployment of projects in the field through the use of all financial instruments and capacity of various funds supporting blue economy.