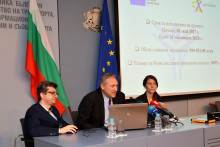 The Road Transport Administration inspection teams will be equipped with tablets, mobile POS terminals and printers. This was stated by the Executive Director of EA Road Transport Administration Boyko Ranovski during the presentation of a project for new electronic services, automation of data exchange with the Ministry of Interior and improvement of the control system.
"All 80 of the agency's teams will exercise control through a new specialized system. It allows real-time verification of available information on vehicles, drivers and carriers. In case of irregularities, the issued act is immediately entered in the system and printed, and foreign citizens will be able to pay the fine through the POS terminal," said Boyko Ranovski. He explained that the system would randomly allocate tasks to the review teams according to their competencies, giving managers the ability to monitor their work more effectively. According to him, this will reduce the time to carry out the inspections, improve the control activity and limit the corruption factors.
Deputy Director of EA Road Transport Administration Damian Voinovski presented the new 7 electronic administrative services that will be implemented within the project. "In less than a year, citizens and businesses will have the opportunity to submit, by means of a modern application, applications for driving and taxi licenses; for the transport of dangerous goods; for reissuing, replacing or issuing a duplicate of a digital tachograph card as well as a driver qualification card. New e-services will significantly reduce the time for processing and receiving the requested documents," Damian Voinovski announced. He added that the project envisages a total of 12 registers and a database. "Various data will be automatically electronically exchanged with the Ministry of the Interior, which has hitherto been provided on paper, such as driver test reports. This will put an end to the abuses of the roadworthiness tests and increase the control over the examinations of driver candidates," said Damian Voinovski.
The project "Upgrading of the registers maintained by the Executive Agency Road Transport Administration for periodic inspections of the roadworthiness of vehicles and the training and the exams for acquiring a license to drive a vehicle . Building a new model of risk-based control activity" is co-financed by the European Social Fund through the Good Governance Operational Program. The value of the project is BGN 990 553 and the deadline for implementation is October 31, 2020.