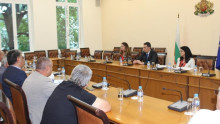 By the end of the year, we will have a certified air ambulance operator in accordance with the requirements of EU Regulation 965/2012. This was stated by the Minister of Transport and Communications Georgi Gvozdeykov at a meeting today with the Board of Directors of Bulgaria Heli Med Service EAD. 
We would like to remind you that following a decision of the Council of Ministers, the liquidation of the state-owned company has been terminated, and as of today it already has an appointed Board of Directors and an Executive Director is to be elected. Kolyo Kolev, Nikolay Mladenov and Dimcho Dobrev were appointed as members of the Board of Directors.
Work on the application for an Air Operator's Certificate starts this week. A meeting is to be held between the leadership of the company and the General Directorate of Civil Aviation Administration, which is the competent authority and carries out the supervision. "When the first medical helicopter will be produced in December 2023, we will already have an aviation operator," Minister Gvozdeykov said.