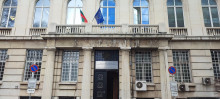 The Minister of Transport and Communications will present the vision for the development of public transport in the period 2022-2027. Minister Sabev is the patron of a forum dedicated to the sustainable development of public passenger transport.
Sabev will talk about the integration of modes of transport, ensuring transport connectivity and awarding transport through concessions. Public-private partnership is a focus of the Ministry's Policy in the current term.
The organizers of the event are the Ministry of Transport and Communications, the Confederation of Bus Carriers, the European Transport Cluster and the Association of Bulgarian Enterprises for International Road Transport and Roads (AEBTRI).
The forum will be held on April 12, 2022 from 11.00. in the Marinela Hotel, Sofia 1 Hall.