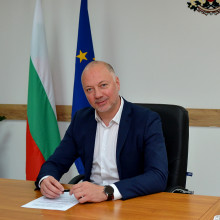 The sectoral financial instruments - the Digital  Agenda for Europe and the Connecting Europe Facility - will strengthen the digital sovereignty of the European Union. This was stated by the Minister of Transport, Information Technologies and Communications Rossen Jeliazkov during a videoconference meeting of the Ministers of Telecommunications. He added that the situation with COVID-19 raised questions about Europe's dependence on third countries in areas or technologies critical to the economy, development and security.
"We welcome the efforts to create pan-European data spaces for research and innovation, as well as to achieve a climate-neutral Europe," the Bulgarian minister added. According to him, large volumes of high quality data are needed for the development of artificial intelligence, which has emerged as an area of ​​strategic importance.
Minister Jeliazkov stressed that financial programs should be developed in parallel with the accompanying legal framework. As an example, he cited the need to revise the Broadband Cost Reduction Directive in order to stimulate the development of very high capacity infrastructure. "At the same time, a framework for cross-border access management is needed in order to create a strong European data ecosystem. This will support the development of the data economy as a driver for innovation and increased efficiency, with a direct contribution to job creation, "added Rossen Jeliazkov. He expressed confidence that the planned adoption of a legislative framework for artificial intelligence, with rules on accountability, safety and respect for fundamental human rights, would be a key driver of economic development.