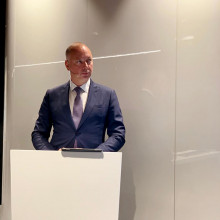 The implementation of 5G networks will increase the range of services in all sectors of society. This was stated by Minister of Transport, Information Technology and Communications Rossen Jeliazkov at a forum on the government's role in promoting innovations. He was adamant that this would have a significant impact on both business and the social field.
Rossen Jeliazkov emphasized that it is necessary to provide sufficient radio frequency spectrum and to ease the conditions for the deployment of mobile networks. "Changing legislation to facilitate small-cell construction, as well as replacing equipment to provide fifth-generation high-speed access, is an important step to overcome some of the obstacles operators face," he said.
"Very often, 5G cells can also use the already constructed infrastructure of municipalities and public authorities. It is no coincidence that a directive to facilitate the deployment and use of electronic communications networks was adopted at European level. The Ministry of Transport, Information Technology and Communications has been involved in the process of implementation the requirements of this directive into the Law on Electronic Communications Networks and Physical Infrastructure for several years, "explained Rossen Jelyazkov.
In his words, an important element of the 5G networks costs is the cost of acquisition of suitable radio frequencies. The Minister added that another trend where state support is possible is the construction of high-capacity communication lines to remote and sparsely populated areas that are not of interest to businesses. This would reduce the financial burden for operators, he said.
The state has an important role to play in enhancing digital skills, and this purely social element is essential to the new ecosystem, part of which is 5G, said Rossen Jeliazkov. It is also crucial to provide cyber defense when implementing innovative solutions, in particular 5G services, the minister said.