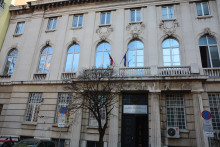 The Ministry of Transport, Information Technology and Communications /MTITC/ supports the efforts of the European Commission to break down language barriers by creating a new Automated Translation platform in the official languages of the European Union - CEF.AT. During a national seminar that took place in Sofia, MTITC presented its vision on the types of documents that institutions should provide and share, so that the new system be adapted to the specific needs of public administration.
The objective is to enable the free operation of public services for nationals and business in Europe beyond language barriers by means of a machine translation platform. The automated translator will facilitate multilingual communication and document exchange in Europe between national public administrations, nationals and business. CEF.AT will also support the rendering of online services in the European digital library Europeana, the open data portal, the online dispute resolution platform, etc.
According to data, communicated within the national seminar, 90 % of all European consumers prefer to use information in Internet in their native language. 82 % of online stores are monolingual and 42% of internet users have never bought goods from a site that uses a foreign language.
Seminar participants were adamant that the provision of information access in various languages for the purposes of Automated Translation platform is associated with significant benefits for both economy and society. The implementation of the Digital single market strategy could lead to increased economic growth by nearly 340 billion euros and could create hundreds of thousands of new jobs.
The national seminar on language resources sharing was organized by the European Commission within the framework of the project "European Language Resources Coordination", funded by the Connecting Europe Facility (CEF) under the Work Programme in the "Telecommunications" sector.
Organizers of the event at national level were: the Institute for Bulgarian Language at the Bulgarian Academy of Sciences, jointly with the European Commission Representation in Bulgaria and the Ministry of Transport, Information Technology and Communications.