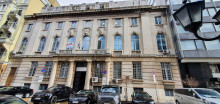 Small and medium-sized companies in the field of telecommunications and licensed Internet service providers can use an investment loan from the Bulgarian Development Bank. The initiative to create the financial instrument belongs to the Ministry of Transport and Communications.
A guarantee has been provided by the Pan-European Guarantee Fund, under a program of the European Investment Fund, for direct financing of micro, small and medium-sized enterprises.
Investment loans range are from BGN 100,000 to BGN 1,000,000.
The investment credit will support the modernization of networks, as well as upcoming projects under the Recovery and Sustainability Plan.