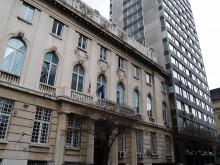 From 10:00 o'clock tomorrow (October 21, 2020) bus carriers will have the opportunity to apply for funding under the financial support measure. The deadline for applications is 17:00 o'clock on November 10, 2020.
The companies can get acquainted with the package of documents from the website of the Ministry of Transport, Information Technology and Communications (MTITC) at the following link: /bg/category/225/dokumenti-po-myarkata-za-finansova-podkrepa-na-avtobusnite-prevozvachi
Applications can be submitted entirely electronically through UMIS 2020 on the Internet address: https://eumis2020.government.bg in the framework of the Operational Program on Innovation and Competitiveness.
The provision of operating capital for Bulgarian micro, small and medium-sized enterprises engaged in bus transport is along a procedure by directly providing BG16RFOP002-2.079 Support for SMEs performing bus transport to overcome the economic consequences of COVID-19 by implementing a support scheme by MTITC.
The minimum amount of funds that will be granted is BGN 3,000, and the maximum is BGN 450,000 grant, and the distribution will be based on the turnover of the companies.