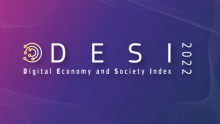 Тhe European Commission has monitored Member States' progress in digital and published annual Digital Economy and Society Index (DESI) reports. The DESI Index ranks Member States according to  their level of digitalisation and analyses their relative progress over the last five years, considering their starting point.
The Commission has adjusted DESI to align it with the four cardinal points set out in the Commission proposal for a decision 'Path to the Digital Decade Policy Programme' which is being negotiated by the European Parliament and the Council. The proposal sets targets at EU level to be reached by 2030 to deliver a comprehensive and sustainable digital transformation across all sectors of the economy.
Bulgaria ranks 26th of the Member States in the European Commission Digital Economy and Society Index (DESI) in 2022.
On Connectivity, Bulgaria makes remarkable progress, climbing 7 positions compared to last year's performance and ranks 19th of the Member States. In 2021, Bulgaria surpassed the EU average in both Fast broadband (NGA) coverage (93% versus 90% in the EU) and Fixed Very High Capacity Network (VHCN) coverage (85% versus 70% in the EU).
Bulgaria has, in the context of the Connectivity Toolbox, implemented a number of measures, including (i) streamlining the process for granting permits, (ii) increasing the use of the Single Information Point (SIP), (iii) extending the right of access to existing physical infrastructure, (iv) facilitating the CRC dispute resolution mechanism, (v) monitoring the correct implementation of EMF and public health (in the competence of the Ministry of Health), (vi) improved incentives for investment (reduced fees for spectrum) and (viii) carrying out closer coordination of the spectrum used for cross-border industry use.
The Digital Economy and Society Index — Countries' reports are available at the following link: https://digital-strategy.ec.europa.eu/en/policies/countries-digitisation-performance