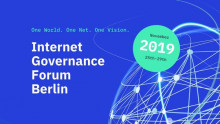 The Internet Governance Forum - IGF is an United Nations discussion platform open to all interested parties. This year's motto is "One World. One network. One vision." and the event will deal with current legal, political, social and technical issues on the Internet and its future. The IGF is conducted in a multi-stakeholder format, ie. not only governments, but also business, civil society and technical experts meet there. The IGF does not make decisions, but rather has an advisory function. It brings together experts from around the world to share know-how and perspectives. The results provide governments with important input and support for decision-makers at national, regional or international level in taking appropriate action. Due to the interest in last year's conferences, we expect about 3000 participants to attend the Forum this year.
The Minister of Economy and Energy of the Federal Republic of Germany Peter Altmeyer invites ministers responsible for digital policy and parliamentarians to participate in the 14th United Nations Internet Governance Forum (IGF) and the Ministerial Meeting on Digital Technology on the development of global communications networks.
A meeting of high-level leaders - ministers, CEOs and representatives of business and civil society - is scheduled for 25 November. The discussion will focus on the development of the Internet and Internet governance models. The G20 Declaration adopted in Tsukuba, Japan, is scheduled to be part of the debate.
Federal Minister Peter Altmayer, Mark Zuckerberg (tbc) and Fatum Ba (tbc), founder of Jumia, the African Amazon, are scheduled to make speeches during the main session on November 25. The three main topics of IGF 2019 are Data Management, Security, Inclusion will be discussed.
Ministers from all UN member states, eurocommissioners and heads of international organizations such as ITU, UNCTAD, WTO, OECD and UNESCO are expected to attend the forum. Business representatives who have already confirmed their involvement include CEOs of car manufacturers, telecommunications network providers, medical technology players, media companies and more.
There will also be a special session for parliamentarians on 25 November focusing on 'Parliamentary Perspectives and Opportunities for Action'. A special program is being organized throughout the week, including a meeting with the Minister of Economy and Energy of the Federal Republic of Germany, Peter Altmayer.
The official opening will be on November 26, 2019, which will be attended by German Federal Chancellor Angela Merkel and UN Secretary-General Antonio Guteres.
On November 28, a seminar will be held for parliamentarians focusing on Internet security, using standards, including the potential roles politicians might play in developing such standards.
On November 29, parliamentarians will convene at a summit to send a strong and united message from the IGF.
The Forum will be an excellent opportunity to meet with colleagues and participants from the industry, the technical community, academia, politicians and civil society. You can exchange views, present perspectives on urgent topics in the country, identify opportunities and challenges and find common ground.
Most of the IGF will be publicly open and open to the media. Bilateral meetings with high-level officials in the host country's administration are also possible.
The necessary requirements for the Internet to remain a global, open, stable and interoperable engine for growth, development and innovation, as well as a tool for public participation will be discussed. Particular attention will be paid to the three main topics of IGF this year, namely data management in cross-border data traffic, online security and e-inclusion , to prevent vulnerable groups from being excluded from the digital world.
Registration  for the forum: https://www.intgovforum.org/multilingual/content/igf-2019-registration