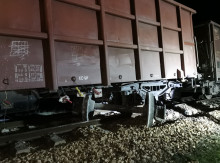 Derailment of DFT № 30690 in the interstation Shivachevo - Tvarditsa on 12.03.2021
On 12.03.2021 at 16:16 p.m. from Sliven station departed DFT № 30610, consisting of 17 full wagons, 68 axles, 1323 tons, towed by electric locomotive № 46032 with locomotive driver and an assistant locomotive driver. The train route is in the direction Sliven - Dabovo - Tulovo - Karlovo - Pirdop. The railway undertaking BDZ-Cargo Ltd. serviced the train. At 16:54 p.m., the train passed through Shivatchevo station without stopping, the traffic manager on-duty monitored the passage of the train and did not notice any irregularities in the rolling stock. In the interstation Shivachevo - Tvarditsa about km 257 + 160 the locomotive driver found a decrease in pressure in the main air duct of the train, turned off the MAD of the locomotive and the train stopped at 17:04 p. m. After the inspection performed by the assistant locomotive driver, it was established that the 16th wagon in a row from the beginning of the train had derailed with the two wheel-sets of the first bogie.
The train locomotive № 46032 towed the first fifteen wagons from the train at 03:46 a.m. on 13.03.2021 at Tvarditsa station.
Because of the derailment, 3400 m of railway infrastructure suffered severe damage, as well as damages were caused to the derailed 16th wagon.
After carrying out rehabilitation activities on the damaged railway infrastructure at 17:36 p. m. on 25.03.2021, the train operation between the stations Shivachevo - Tvarditsa was restored at a speed of 25 km/h.
There were no injured staff, as well as other persons.