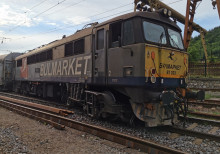 Derailment of IDFT No 48041 in Belovo station on 11.06.2021
International direct freight train (IDFT) No 48041, consisting of 18 wagons, 72 axles, 486 tons, towed by electric locomotive No 91520087023-5 with locomotive crew, departed on 11.06.2021 at 5:30 a.m. The train movement is in the direction of the Republic of Serbia through the Republic of Bulgaria to the Republic of Turkey. With route of movement Dimitrovgrad ZhS — Dragoman — Sofia — Septemvri — Plovdiv — Svilengrad — Kapıkule (TCDD). In the section from station Dimitrovgrad ZhS to Belovo station, the train ran at the permitted section speed. The train arrived in Sofia station at 11:23 a.m., and after the replacement of the locomotive crew, the train departed at 11:40 a.m. No irregularities were observed and found during the train movement and staying in the stations, either by the locomotive crew or by the staff of the stations along the section. The train passed through Kostenets station without stopping at 14:07 p.m. After the train locomotive entered in Belovo station on track No1, the right wheel of the third wheel-set of the locomotive (from the second bogie) fell on the inner part of the right rail, and after 60 m derailed the left wheel of the third wheel-set of the locomotive (from the second bogie). The derailed locomotive passed through switches No 2, No 10 and derailed on switch No 14 with the four wheel-sets of the two bogies. The first wagon of the train also derailed. The locomotive driver stopped the train with the train brake at 14:27 p.m.
The locomotive crew after the inspection found that the locomotive had derailed with all the wheel-sets and the first wagon with the two wheel-sets of the first bogie.
The movement in Belovo — Kostenets interstation was interrupted for a day.
There was no injured personnel. Damages were caused to the locomotive and the first derailed wagon. There were also caused damages to the railway infrastructure.
After lifting the rolling stock and carrying out restoration works on the railway infrastructure, the train movement was restored at 14:30 p.m. on 12.06.2021 at a speed of up to 25 km/h.