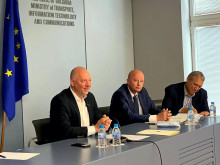 The Minister of Transport, Information Technology and Communications Rossen Jeliazkov presented to branch organizations the measures taken so far, related to freight and bus transport. The Recovery Plan was also discussed, as well as the formation of national measures for the way in which the sources from the Next Generation EU Fund will be invested.
"All actions and policies that have been taken so far cover three aspects – anti-epidemic measures to limit the spread of the infection; social, aimed at maintaining employment and economic, which are related to taking care of companies and their operational potential. We have the ambition to do targeted engineering in terms of transport measures with the clear awareness that so far there are no such branch-oriented ones. We will think about additional measures and optimization of the existing ones. I agree that a differentiated approach should be sought and we will make such proposals to cover as much of the sector as possible", said Rossen Jeliazkov.
Minister Rossen Jeliazkov pointed out that the talks and meetings with the branch are extremely important. They provide the necessary feedback on how these measures work in practice and what could be improved. He said that a series of similar meetings would be held to discuss all problems and opportunities for the sector of administrative and economic nature. "Together we must find the right national policies and solutions that will lead us to preserve the industrial capacity of road transport, as well as the preservation of jobs", the Minister added.
The meeting was attended by the branch organizations of heavy goods and bus transport.