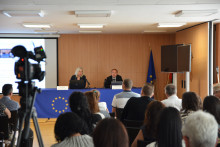 Funding opportunities in upcoming competitions under the Connecting Europe Facility and Digital Europe Program were presented today at the Euro Techno Info Day. The Ministry of Transport and Communications announced the topics and application requirements in advance to give companies and organizations time to prepare successfully.
"The Ministry of Transport and Communications is the national coordinator for the digital and transport sector, we are ready to provide assistance and call for more participants", Deputy Minister Dilyan Berkovski said at the opening of the Information Day.
The first competitions in the field of digital connectivity are in September and October 2022. The total budget exceeds 470 million euros. Funds will be allocated for fifth generation technologies in health and education. Funding is foreseen for backbone connectivity such as submarine cables and satellite infrastructure for digital global gateways.
The budget of the Connecting Europe Facility in Transport Sector is €25,807,000,000 in the period 2021-2027. These are to support projects to develop the pan-European Transport Network, multimodal networks and the adaptation of infrastructure to dual-use requirements /civil and military/. Normal 0 21 false false false BG KO X-NONE /* Style Definitions */ table.MsoNormalTable {mso-style-name:"Table Normal"; mso-tstyle-rowband-size:0; mso-tstyle-colband-size:0; mso-style-noshow:yes; mso-style-priority:99; mso-style-parent:""; mso-padding-alt:0cm 5.4pt 0cm 5.4pt; mso-para-margin-top:0cm; mso-para-margin-right:0cm; mso-para-margin-bottom:8.0pt; mso-para-margin-left:0cm; line-height:107%; mso-pagination:widow-orphan; font-size:11.0pt; font-family:"Calibri",sans-serif; mso-ascii-font-family:Calibri; mso-ascii-theme-font:minor-latin; mso-hansi-font-family:Calibri; mso-hansi-theme-font:minor-latin; mso-fareast-language:EN-US;}